We can help you achieve your cycling and lifestyle goals at Osteohealth.
Tom Barry has become one of Australia's premier Cycling Analysts. As a Registered Osteopath, who also has a Science degree majoring in Anatomy and Physiology, he is uniquely positioned to analyse you on and off the bike. His clinical injury management skills allows for an appropriate diagnosis, and his years of Cycling Analysis allows him to create an on-bike solution. He is a Certified Retul Fit Expert and has recently returned from a study trip to the USA working with world leading Cycling Analyst Paraic McGlynn of Cyclologic. Tom can maximize your performance and comfort through scientifically driven bike fitting. Tom regularly consults with elite cycling teams, particularly the Bicycle Superstore Women's National Road Series team and the Pushy's Bike Warehouse MTB Enduro team. He also works extensively with Top 10 Ranked National Cyclists at Elite and Under 23 level as well Ironman Triathletes.
At Osteohealth we believe that our knowledge is the most important element of all our consultations– but you can't make an educated decision without exceptional technology. We make use of world leading data capture, pressure mapping and biometric equipment that will give you repeatable and accurate data. It is then analysed by people who know what your problem is and how best to resolve it. Our independent advice allows you to rest assured the products or services we recommend are appropriate for you.
Make an appointment with Tom and see how he can make your cycling more comfortable and efficient!
Tom is also a competitive cyclist- he understands the demands you place on your body. Through years of clinical experience he can tailor an exercise and rehabilitation program to your needs.
Product Range
We stock products we believe in.
We ensure that we have a varied selection of saddles, handlebars, tribars, footbeds, stems and pedals from leading brands like Zipp and 3T, so that you can get the most from your session. And if we don't have it, we can order it in for you.
We hold a complete range of unique saddles from Cobb Cycling, Prologo, ISM saddles and a whole wall of random seats for you to trial.
Once you've tried the combination of Gebiomized pressure mapping with Tom's anatomical knowledge you'll rest easy knowing you've got the right saddle for your anatomy.
A good position begins with great foot control – we stock footbeds from Lake (review here), G8 Performance and Solestar (Tom is an accredited Solestar fitter for custom footbeds).
Should I get a bike fit? – Watch Tom's interview below on his bike fitting recommendations.
Note: Skip to 3 minutes, 17 seconds for Tom's segment.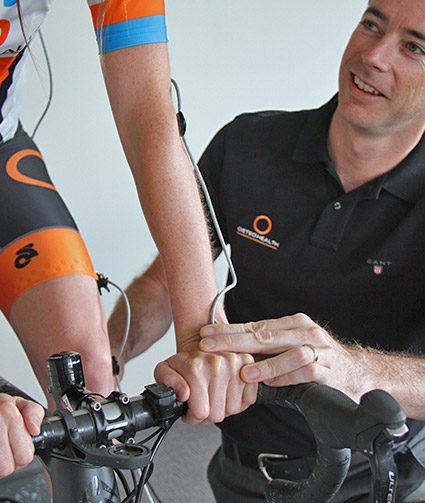 ---